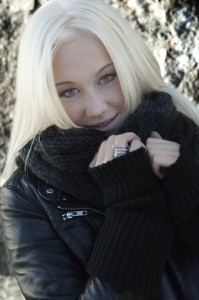 Tomorrow, Aftonbladet's website premieres Eric Saade's new video for 'Hearts In The Air', but today it's the turn of his close labelmate, Hilda, and her new single 'Brief & Beautiful'.
We brought you a clip of the song earlier this month, and now you can have a listen to the full thing, as well as view the vid. 'Tis a classy affair, such is Hilda's tender age. And we can't help but notice that she comes across as something of a younger Hanne Sørvaag, the lady who composed 'Brief & Beautiful', when she brings out that guitar of hers! Definitely a mixture of Hanne Sørvaag and Miley Cyrus (before she decided that she 'Can't Be Tamed').
Hilda's got a busy summer ahead of her, as she'll be appearing at the Diggiloo tour around Sweden, alongside the likes of Linda Bengtzing, Charlotte Perrelli, Linda Pritchard, and Magnus Carlsson.
And after that?………..Well, we've said it before on here, but we imagine that there's going to be A LOT going on in this young lady's career in the coming years!