This Saturday we've got Heat 3 of Melodifestivalen to look forward to. It means we're halfway there in the unveiling of the 28 songs this year, with 7 more to be performed at the weekend.
Artist-wise we have three former finalists and four debutantes. One of those debutantes is a recent Idol winner though, so has proven form when it comes to the Swedish voting public.
You can see 30 seconds from each of the artists' Thursday afternoon rehearsals over on SVT's website.
Here's what you can expect from each of the songs, and the artists performing them;
SaRaha – Kizunguzungu
(Anderz Wrethov, Sara "SaRaha" Larsson, Arash Labaf)
A lady who was born in Sweden and has been raised in Tanzania. She's an established artist out there already, and according to SVT is quite well known in East Africa for her music. She's teamed up with successful Melodifestivalen songwriter Anderz Wrethov (who is already in the final with David Lindgren's 'We Are Your Tomorrow'), and popstar Arash. Describing her song as "Afropop", it's performed in both English and Swahili. We're hoping for an up-tempo, beat-heavy, dance-a-thon on stage on Saturday night. Being Scandipop, we're not too well versed in the Afropop genre – but we imagine we'd much prefer an Afropop banger to an Afropop ballad. To get an idea of her sound, check out her 'Yerere' single from last year.
Swingfly feat. Helena Gutarra – You Carved Your Name
(Jocke Åhlund, Andreas Kleerup)
Despite taking to Twitter during last year's Melodifestivalen final to smugly tell the world just how pleased he was not to be taking part in the contest, here he is back again with tail planted firmly between legs. And SVT have rewarded him by putting him in the dreaded second performance slot. In fairness though, he brings with him quite the army. On the composition side he is joined by Jocke from Teddybears and ACTUAL FUCKING KLEERUP. And on the performance side, he's roped in Helena Gutarra as his featured vocalist. Helena Gutarra is an awesome popstar. And kudos to Swingfly, the last time he came to Melodifestivalen he brought a proper tune to the party. So we're pleased to see him back again. Just ease off on dissing your bread and butter in future, yeah mate?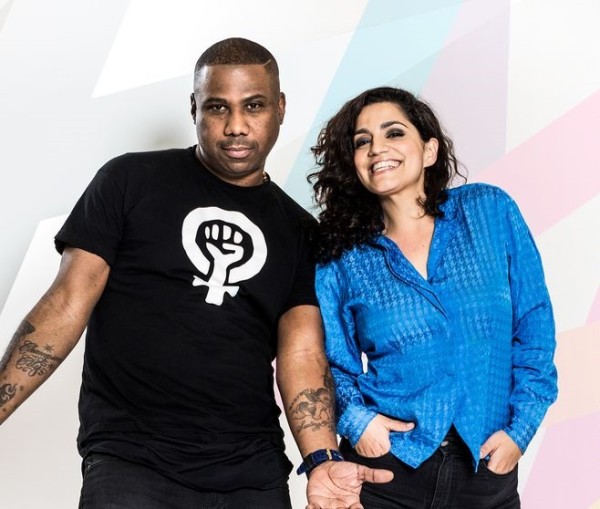 SMILO – Weight of the World
(Arvid Ångström, Dennis Babic, Oscar Berglund Juhola, Anton Göransson, Robin Daneilsson)
These chaps come to Melodifestivalen from winning the Svensktoppen Nästa contest earlier in the year. Their usual style of music is tropical house, much like their previous single 'Goosebumps'. For 'Weight of the World', they say we should expect something a bit more up-tempo – albeit still within the same tropical house genre. It's undoubtedly been the sound of 2015, and will most likely translate well onto the Melodifestivalen stage – as we witnessed in Heat 1 with Robin Bengtsson. Sweden have every right to be proud of the house music collectives they've previously exported – and these boys could well be looked upon as the next in line. They've promised to do something very special with their staging too.
After Dark – Kom Ut Som En Stjärna
(Sven-Inge Sjöberg, Lennart Wastesson, Larry Forsberg, Lina Eriksson, Kent Olsson, Calle Kindbom)
Drag show After Dark last week announced a farewell show residency which will commence in September. So Melodifestivalen will hopefully provide a platform big enough that they go out with a bang. They finished fourth (in a very competitive final) in 2004 with 'La Dolce Vita', but unfortunately their cheeky ode to masturbation wasn't received as fondly in 2007, and they crashed out of their heat in 5th place. As if their return wasn't enough to warrant a gay scream of excitement though, a quick look at the songwriter credits reveals a mash-up of the people behind After Dark's first Melodifestivalen entry 'La Dolce Vita', with the people behind the most recent Melodifestivalen entries from both Magnus Carlsson and Kikki Danielsson. A typical After Dark song and show has been promised, though quite frankly we don't believe anyone would settle for anything less. And anyone in doubt that After Dark can still churn out a tune ten years later, need only check out 2014's camp-as-fake-tits single 'Let's Go Party'. We'll take another one of those please!
Lisa Ajax – My Heart Wants Me Dead
(Linnea Deb, Joy Deb, Anton Hård af Segerstad, Nikki Flores, Sara Forsberg)
The winner of Swedish Idol in 2014 recently released her proper debut single 'Blue Eyed Girl', which we LOVED. 'My Heart Wants Me Dead' has been described to us as a mid-tempo pop track with r&b elements to it. It's the fourth song of Melodifestivalen 2016 to have Joy, Linnea, and Anton on songwriting duties, with the other three all having progressed to either the final or andra chanson. Plus we have Nikki Flores on co-writing duties on this one (also behind Isa's 'I Will Wait'). But perhaps the most noteworthy name on the songwriter credits is that of Sara Forsberg – aka Finnish popstar Saara of awesome 'Ur Cool' notoriety. That whole combination gets us very excited about this entry.
Boris René – Put Your Love on Me
(Boris René, Tobias Lundgren, Tim Larsson)
Boris is a professional footballer who has meddled in music before – normally sharing vids of himself covering other people's songs. Now he debuts in Melodifestivalen with a song he describes simply as soulpop. That description makes sense when you see he's worked on it with two guys who were behind last year's 'I'll Be Fine' by Molly Pettersson Hammar. His only previous release before now, was the single 'Alive'.
Oscar Zia – Human
(Oscar Zia, Victor Thell, Maria Smith)
Oscar has teamed up with the writers behind Molly Sandén's big pop comeback singles of late, to come up with a song that has been described to us (back in November) as a mid-tempo ballad with some personal lyrics that reflect Oscar as the young man he is. A biographical arena anthem. Of course since then, Oscar Zia has come out as gay. So his performance of 'Human' on Saturday night, and its lyrics, will be put into a lot more context now than it would have been before. It's looking like the most obvious finalist of the week.